Como ele foi questionado por advogados em 2015 repetidas vezes sobre o que ele sabia e o que não sabia sobre abuso sexual sofrido por atletas olímpicos, o então advogado do Comitê Olímpico dos EUA, Gary Johansen, fez uma escolha. Não importa a pergunta, não importa qual advogado tenha pedido, Johansen não disse "abuso infantil", ele não disse "agressão sexual", e ele não disse "estupro". O que ele disse, repetidamente em sua depoimento , foi "SafeSport". O USOC, disse ele cada vez, não estava respondendo a uma crise de abuso sexual desenfreado. Não, ele disse, esses eram "problemas do SafeSport".
A escolha da frase se destaca. É, por um lado, um eufemismo de som agradável para um conjunto horrível de atos. É, por outro lado, uma frase que o USOC registrou em 2012, antes de tomar medidas sérias para abrir um braço "independente" para investigar abuso sexual, antes da última rodada de audiências no Congresso, e antes de Larry Nassar se tornar um nome familiar para suas décadas. de predando atletas do sexo feminino. Ao usar a frase repetidas vezes, Johansen conseguiu apagar a dor e o sofrimento muito reais das pessoas e substituí-la por um slogan. (Johansen, que desde então se aposentou do USOC, não retornou uma mensagem deixada em sua casa.)

Com o tempo, a frase SafeSport passou a significar várias coisas distintas. É o nome adotado por vários órgãos de governo sempre que eles têm um escândalo de abuso sexual e precisam prometer fazer mais educação e prevenção. É um programa de educação e prevenção de agressões sexuais em vários esportes olímpicos. É - e é nisso que as pessoas provavelmente pensarão quando ouvirem a palavra SafeSport, se é que sabem - um centro físico real em Denver que lida com relatos de possíveis abusos sexuais em esportes olímpicos. Mas acima de tudo, a SafeSport é uma marca e funciona como uma.
Mesmo que fosse perfeitamente projetado, a SafeSport teria dificuldade em alcançar seus objetivos, e está longe de ser perfeitamente projetada. Registros, entrevistas e um exame da história relevante mostram que, embora ainda não tenha sido estabelecido um trabalho básico para proteger os atletas contra abusos, a SafeSport já foi implantada para fazer com que as preocupações de qualquer pai simplesmente desapareçam.


Primeiro, há a logística. O número de casos, como dado a Deadspin, é de 19 casos por investigador, mais da metade do que a recomendação geral para assistentes sociais em serviços para crianças fornecidos pelo estado. (Esse número é indiscutivelmente alto demais.) O orçamento para a educação, destinado a evitar abusos futuros, é de apenas US $ 1,5 milhão, e o orçamento total   quando o CEO da SafeSport falou ao Congresso foi um insignificante US $ 4,6 milhões. (Para comparação, a USADA, agência antidoping, teve um gasto total em 2016 de cerca de US $ 20 milhões .) é um problema que pode ser significativamente mitigado com dinheiro e, no entanto, parece que ninguém - nem mesmo o Congresso - pode se dar ao trabalho de fazer exatamente isso.

Depois, há a alegação do centro de ser independente do USOC. A palavra "independente" ou "independência" surgiu nove vezes em uma audiência do Congresso no início deste ano. Mas não importa quantas vezes a Shellie Pfohl, CEO da SafeSport, promete independência, a história do centro conta uma história diferente. O centro não depende apenas do financiamento do USOC e de outros órgãos esportivos nacionais, mas é uma criação de raiz e ramificação do USOC. As atas de reunião dos primeiros dois anos do conselho da SafeSport, revisadas pela Deadspin, mostram que muitos dos principais funcionários do USOC, incluindo advogados como Gary Johansen, estavam presentes nas reuniões oferecendo orientação e orientação do conselho da SafeSport. Entre eles estava o atual diretor de operações da SafeSport   Malia Arrington, que uma vez disse em um depoimento que ela não tinha autoridade para fazer o Taekwondo dos EUA proibir um treinador, apesar da evidência de abuso sexual. Ela estava, enquanto estava na folha de pagamento do USOC, CEO em exercício da SafeSport durante a maior parte de 2016, a pessoa-chave que liderava a diretoria por meio de perguntas sobre como o centro funcionaria e quais seriam suas prioridades. Ela ainda está lá, como COO da SafeSport. O USOC até controlou a conta bancária do SafeSport, disseram as reuniões, até o ano passado.
A SafeSport contestou questões sobre sua independência, com uma porta-voz dizendo em um comunicado: "Há muitas pessoas que são gratas pelo centro, sua missão e trabalho nos movimentos." Quando perguntado por que tantas pessoas do USOC foram incluídas na criação O porta-voz do USOC Patrick Sandusky disse que SafeSport "foi uma idéia criada pelo USOC", uma resposta que ignora décadas de trabalho de atletas e ativistas, especialmente a diretora executiva Champion Women Nancy Hogshead-Makar , exigindo que o USOC faça algo para responder ao crise de abuso nos esportes olímpicos.

O USOC existe por causa de um ato do Congresso, o Ted Stevens Act , que financiou a organização e deu a ela status sem fins lucrativos . O Congresso poderia intervir e reescrever as regras que estruturam a governança olímpica; poderia financiar o centro SafeSport a níveis que lhe permitiriam proteger as crianças nos esportes olímpicos; poderia reconhecer que o abuso infantil acontece em todas as esferas da vida e tornar toda a questão uma prioridade nacional.
Mas o próprio Congresso não pode ser incomodado para financiar o centro SafeSport (e, vale a pena notar, já realizou audiências para repreender os líderes olímpicos que realizaram pouco além de gerar manchetes e press releases). Ele forneceu zero dólares diretamente à SafeSport e, em vez disso, criou uma doação que o centro precisa solicitar - por meio do escritório do procurador-geral , o mesmo que recentemente desempenhou um papel na separação de pais e filhos imigrantes. Esse subsídio, que a SafeSport terá que gastar tempo e dinheiro para obter, é de cerca de US $ 2,2 milhões. Está dizendo que mesmo o Congresso, os próprios arquitetos do movimento olímpico americano, não pode ser incomodado em fazer mais do que o mínimo dos mínimos.
Apesar de toda a comoção e de todos os comunicados de imprensa e de todas as audiências em que os representantes eleitos fazem cara feia para as câmeras, nada mudou, com a notável exceção da marca SafeSport aparecendo de repente em todos os lugares. Nenhuma criança é mais segura.

"Se você quer molestar crianças, o USOC é como a Disneylândia", disse o advogado Jon Little, que desempenhou um papel em múltiplas ações judiciais contra vários órgãos do governo, incluindo ações movidas no início deste ano contra EUA Taekwondo e Mergulho dos EUA . "O centro SafeSport é apenas uma maneira de branquear isso."
---
Se não fossem as Olympics envoltas em bandeiras, patriotismo, hino nacional e montagens de vídeo bruscas - a estrutura do Comitê Olímpico dos EUA e as organizações que ele organiza para supervisionar cada esporte seriam entendidas como o que é : Uma estranha organização tipo shell que pode não lavar dinheiro, mas, convenientemente, evita a responsabilidade. Na verdade, essa pode ser a função mais importante que o USOC oferece dentro do movimento olímpico: um caminho rápido e fácil para a negação plausível de qualquer superior que precise dizer a um repórter ou a um advogado que quaisquer ações humanas horríveis tenham sido descobertas - como os muitos casos de jovens olimpíadas sendo abusadas e estupradas por seus treinadores - não é culpa deles.

É por isso que, quando há um escândalo, o USOC é rápido em apontar que não cuida dos esportes que supervisiona; isso é feito pelos órgãos governamentais nacionais, que freta e financia parcialmente, mas que em grande parte se autogovernam. É por isso que, quando conveniente, o USOC dirá que não pode dizer aos NGBs o que fazer, mesmo que através de financiamento ou da ameaça de decertificação, isso possa acontecer. É por isso que eles insistirão, repetidas vezes, que não existe um atleta do USOC; os atletas pertencem aos órgãos nacionais, ou NGBs. (Christy Cahill, diretor de comunicações do USOC, enviou uma vez a Deadspin um pedido de correção para usar a frase " Atleta do USOC "Em um post no blog. "Os NGBs, neste caso, o Taekwondo dos EUA, gerenciam todos os relacionamentos com atletas e nenhum atleta é 'atleta do USOC'", escreveu ela.
De acordo com as próprias declarações fiscais do USOC, é em grande parte um funil isento de impostos por dinheiro. A mais recente declaração de impostos do USOC, de 2016, conta a história. Sua despesa número 1 é devolver o dinheiro aos NGBs (que pagam os salários de seus executivos sem pagar os atletas ); sua segunda despesa é administrar o centro de treinamento olímpico, que um relatório encontrado foi usado principalmente por não olímpicos ; sua despesa n º 3 está enviando atletas para competir; No. 4 está apoiando o Paralympics; e No. 5 é "propriedades de transmissão". As declarações de imposto do USOC descrevem esse imposto, que custa mais de US $ 10 milhões, como uma mistura de trabalho para "proteger e nutrir" seu relacionamento com a parceira de transmissão NBC (que também patrocina SafeSport). também crescendo e desenvolvendo plataformas digitais para o movimento olímpico, como o site TeamUSA.org.
Outros US $ 4 milhões são gastos em "comunicações", mais de US $ 2 milhões em relações internacionais e US $ 4 milhões em controle de drogas. Por sua própria contabilidade, o USOC gasta a lot dinheiro em relações públicas. Uma grande parte de seu trabalho é ser uma agência de marketing isenta de impostos. E isso está no topo do salário de um milhão de dólares do CEO e os mais de uma dúzia de executivos abaixo dele ganhando seis números em 2016, incluindo um diretor de marketing, não um, mas dois diretores de marketing e um chefe de comunicações.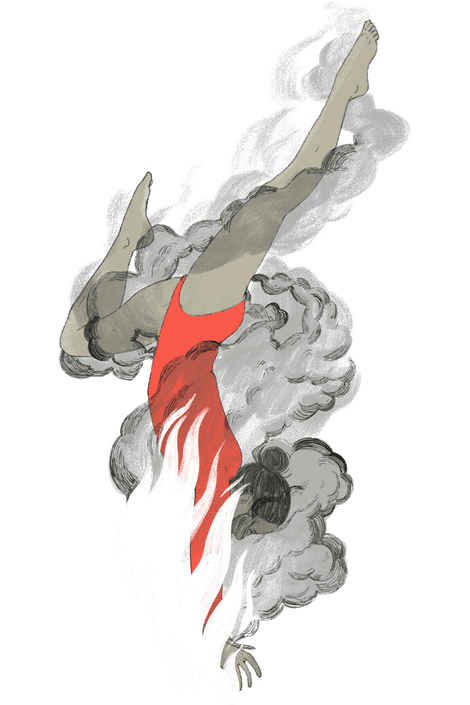 Veja o que o USOC não faz:   "O USOC não treina e desenvolve atletas, treina e desenvolve treinadores, treina e cria funcionários, organiza eventos, desenvolve programas de base para permitir que crianças participem de esportes, crie programas nacionais de testes físicos para determinar habilidades ou capacidades atléticas, estabelecer ou desenvolver quaisquer instalações em qualquer esporte (não que eles deveriam) ... ou realmente ter qualquer influência real sobre o sucesso final de nossos atletas no esporte olímpico ", disse Mike Jacki, que foi presidente da USA Gymnastics de 1983 a 1994.

O USOC fez esse argumento em uma resposta recente a várias ações judiciais relacionadas a Nassar contra ele. Os advogados do USOC argumentaram que ele deveria ser demitido de vários processos porque não tem controle sobre a ginástica nos EUA. "Em nível organizacional, a USA Gymnastics não é uma" afiliada "por meio da qual o USOC opera, ao contrário das organizações de futebol locais na US Youth ", a moção para demitir lê . "Ao contrário, sob a ASA, a USA Gymnastics é uma organização independente e autônoma que exerce controle total sobre seu esporte ... Em outras palavras, o controle da ginástica nos EUA é acusado de residir com a própria ginástica dos EUA".
Os cães de guarda sem fins lucrativos dirão que um descritor do que uma agência faz normalmente é um sinal de alerta, e a própria descrição do USOC à Receita Federal é uma bateria de linguagem vazia: "Apoiar atletas olímpicos e paralímpicos dos EUA a alcançar excelência competitiva, demonstrando os valores do Movimento Olímpico, inspirando assim todos os americanos ".
Em outras palavras, o USOC gasta muito dinheiro com propósitos amplamente vagos, além de suas próprias despesas. E "alegações de abuso sexual representam uma ameaça a este fluxo constante de sucesso comercial", nas palavras de um recente processo movido contra a USA Diving e a Ohio State por suas falhas em prevenir abuso sexual por parte de um técnico . "Por esse motivo, o USOC tenta, em todas as oportunidades, impedir que o público reconheça que o USOC é uma farsa completa".
E esse fluxo de sucesso comercial é tudo sobre parcerias de transmissão. Em 2016, o USOC recebeu mais de US $ 172 milhões em receita de direitos de transmissão. A segunda maior fonte de renda, em mais de US $ 120 milhões, foi royalties. A receita de transmissão caiu em 2015, um ano não olímpico, mas os royalties não. Eles ainda geraram cerca de US $ 101 milhões naquele ano, de acordo com as declarações de impostos .
Por isso, se encaixa com um padrão mórbido que o USOC, que funcionalmente ignorou o abuso infantil por décadas, respondeu a uma crise de abuso com uma campanha de branding. É para isso que as relações públicas e o marketing servem - transformando negativos em positivos.
Uma linha do tempo elaborada por advogados e defensores de atletas data do primeiro relato de abuso sexual por um técnico olímpico desde 1990 . Em 1991, o tópico da prevenção do abuso sexual surgiu em uma reunião de um comitê ad hoc da USA Swimming, de acordo com documentos obtido pelo site SwimVortex . Os documentos não mostraram nenhuma ação sobre esse assunto. Mais escândalos surgiram em vários esportes ao longo das décadas, mas pouco mudou.

Então, em 2010, uma série de reportagens foi veiculada na ABC e na ESPN expondo o quão pouco a USA Swimming fez para proteger seus atletas de abuso sexual: não houve verificação de antecedentes pré-contratação, muitas pessoas nunca pensaram em relatar sinais de alerta e muitos outros intencionalmente olhou para o outro lado porque eles colocaram em primeiro lugar. Em resposta, a USA Swimming iniciou um programa que apelidou de SafeSport, que todo o movimento olímpico adotou posteriormente.
De lá vieram muitas reuniões. Primeiro, o USOC iniciou uma força-tarefa. Essa força-tarefa emitiu um relatório em setembro de 2010 e deu citações aos repórteres sobre como eles acertariam desta vez. Um ano depois, em 2011, ainda não havia um programa de treinamento robusto, nem um modelo centralizado para educação em todos os esportes, ou uma maneira de garantir que os maus treinadores não passassem do esporte para o esporte para evitar a detecção. a força-tarefa havia recomendado . Mas o USOC registrou um pedido de uma marca registrada no nome SafeSport. O aplicativo fornece a melhor percepção do que o USOC realmente queria que o SafeSport fosse. A partir da aplicação:
Serviços educativos, nomeadamente, realização de aulas, seminários, apresentações, workshops e fornecimento de educação e recursos (impressos e eletrónicos) para prevenir os maus-tratos de atletas no desporto organizado; desenvolver, publicar e promover práticas, políticas e procedimentos para prevenir os maus-tratos de atletas em esportes organizados
Alguns meses depois, eles alteraram sua solicitação para incluir "promover a conscientização sobre a necessidade de prevenir maus-tratos" e "desenvolver padrões voluntários".

Uma e outra vez, a frase "padrões voluntários" aparece nos materiais do pedido de marca. Um ano depois, em 2012, eles adicionaram o que parece ser uma impressão de um site muito alegre.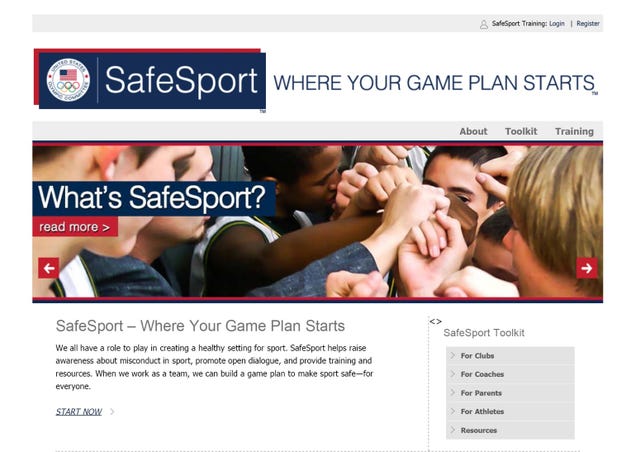 O pedido de registro de marca foi aprovado em agosto de 2012. Um mês depois, o Wayback Machine capturou o SafeSport.org de forma bastante semelhante ao descrito no aplicativo de marca registrada. Até então, o USOC também havia contratado Arrington - uma advogada que disse sob juramento em um depoimento que ela não tinha experiência anterior como advogada trabalhando com vítimas de abuso sexual - para ser seu diretor sênior de ética e SafeSport. Ela descreveu seus deveres para acabar com o abuso sexual dessa maneira em um depoimento de 2015: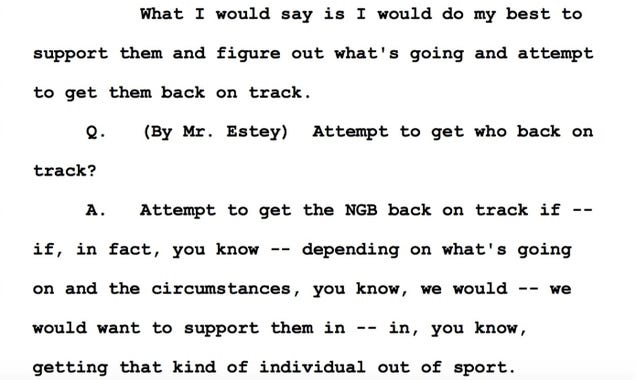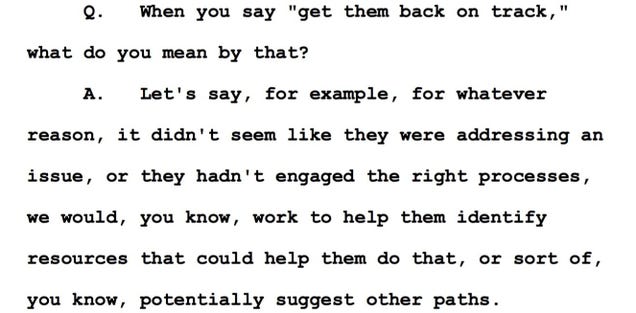 Com a marca registrada em mãos, os oficiais olímpicos podem agora trazer o SafeSport conforme necessário.
Em 2013, quando a Speedskating dos EUA teve que se conformar com um grupo de atletas que disseram ter sido abusados ​​por seu treinador, o USOC prometeu expandir o nebuloso programa SafeSport and criar uma agência independente para resolver o problema. As pessoas nessa discussão incluíam o então CEO da USA Gymnastics, Steve Penny, que acabou deixando em desgraça a forma como lidara com o escândalo de Larry Nassar.

Em 2014, um grupo de 19 nadadoras disse que foram abusadas sexualmente por seus treinadores de natação , forçando o Hall da Fama da Natação Internacional a rescindir um convite para o chefe da USA Swimming, Chuck Wielgus. E o que Wieglus fez em defesa de sua reputação? SafeSport . Uma declaração de Wielgus disse: "Enquanto a USA Swimming desenvolveu seu inovador Programa SafeSport, eu defendi o trabalho de nosso órgão governamental nacional. Eu falei sobre o bem que a USA Swimming estava fazendo na luta para erradicar o abuso sexual. "
Mais tarde naquele ano, quando a revista Outside divulgou extensivamente sobre a questão atual de abuso sexual nos esportes olímpicos , especialmente na natação, os líderes olímpicos mais uma vez convocaram a SafeSport. O artigo observa que o centro SafeSport abrirá, eventualmente, e entrará em detalhes sobre o sucesso do programa SafeSport na Natação dos EUA, supervisionado por Susan Woessner. (Woessner renunciou no início deste ano depois o relatório do Orange County Register Em 2007, ela fez parte de uma investigação de má conduta sexual da USA Swimming que tirou o treinador de natação Sean Hutchison, que Woessner havia beijado três anos antes. A nadadora nesse caso, Ariana Kukors Smith, disse que Hutchison estava abusando dela.
Mas a marca já estava em exibição total. O USOC realizou uma cúpula do SafeSport em 2014 que, de acordo com seu comunicado de imprensa, "deixou cada participante inspirado a agir". O que não foi publicado é o fato de que, como relatado pela Outside , ex-patinadora de velocidade em pista curta Bridie Farrell disse na conferência que ela foi abusada sexualmente por um patinador, Andy Gabel. Gabel admitiu ter cometido uma má conduta em uma entrevista ao Chicago Tribune , mas não perdeu sua filiação vitalícia para a Speedskating americana até 2016 .
Em junho de 2014, o site SafeSport existia há dois anos. Conforme capturado pela Wayback Machine , ofereceu este conselho sobre como lidar com um relatório de possível abuso infantil.

Não menciona chamar a aplicação da lei ou qualquer autoridade fora do sistema olímpico.
Em seu depoimento , Arrington usaria o site como um dos grandes resultados de seu trabalho. (Estey se refere ao advogado por um dos queixosos.)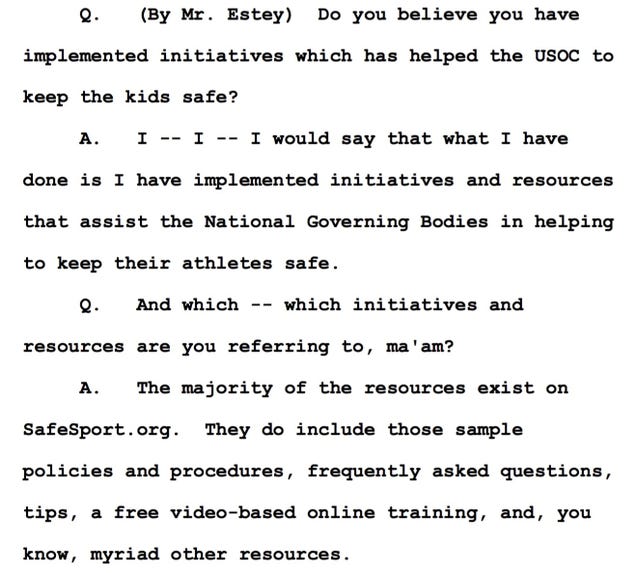 Quando o Government Accountability Office fez um relatório sobre abuso no atletismo em 2015, o USOC mais uma vez apresentou o SafeSport. Eles disseram ao GAO que o SafeSport era seu "programa de segurança dos atletas". O centro físico que havia sido prometido ainda não existia. No mesmo ano, segundo os registros fiscais do USOC , a organização finalmente alterou seu estatuto, "exigindo que os membros cumpram as políticas esportivas seguras do USOC e a organização independente de esportes seguros designada pelo USOC para aprimorar práticas esportivas seguras e investigar e resolver violações esportivas ".

Em 2015, a USA Swimming realizou sua própria conferência SafeSport . Dani Bostick, que foi abusada por seu treinador de natação nos anos 80, foi convidada para falar lá. Ela descreveu a experiência como tendo pouco a ver com a prevenção de abuso sexual e principalmente sobre marketing.
"Foi eles me usando como um pônei de vitimas", disse ela. "Não houve conteúdo significativo sobre a prevenção do abuso sexual, e deixei a conferência dizendo: 'Por que isso existe?'"
Em 2016, porém, quando a história de abuso na ginástica quebrou pela primeira vez , a primeira solução proposta pelo USOC foi a SafeSport , com Arrington dando citações aos repórteres. Naquele mesmo ano, a SafeSport fez um inquérito sobre um treinador de mergulho abusando sexualmente de um jovem mergulhador, de acordo com uma ação movida pelo mergulhador neste mês .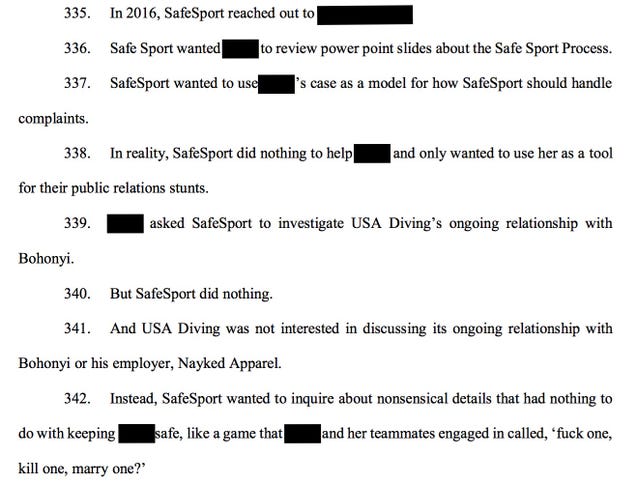 Em 2018, o USOC documentou a transferência de sua marca registrada em "SafeSport" para o centro SafeSport - o mesmo centro que deveria ser independente do USOC.

Questionado sobre o assunto, o porta-voz do USOC, Patrick Sandusky, pediu para falar em segundo plano e disse que não poderia responder a todas as perguntas de Deadspin nos 30 minutos que ele havia distribuído. Por e-mail, ele prometeu investigar por que o USOC detém a marca registrada no SafeSport e enviou um link para uma carta de 2017 a dois senadores do então CEO do USOC, Scott Blackmun , que disse que os atrasos na abertura do SafeSport Center [levando] mais tempo e esforço de mais pessoas do que esperávamos. "
Questionado sobre a crítica de que o USOC é em grande parte uma agência de marketing que agora foi encarregada de abordar abusos sexuais, ele escreveu: "A grande maioria de nossos funcionários dedica-se ao desempenho esportivo de elite, incluindo treinadores, nutricionistas, psicólogos, fisiologistas, quiropráticos, especialistas em resistência e condicionamento, para citar alguns, todos dedicados a cumprir a missão do USOC de apoiar os atletas a obter uma excelência competitiva sustentada. "Quanto à marca registrada, Sandusky disse que estava garantida" para proteger o nome do centro por segurança. esporte, não por razões de marketing ".
Para o centro SafeSport ter uma chance, os atletas precisam acreditar em sua independência. Caso contrário, a SafeSport enfrentará o mesmo problema que afetou a aplicação da lei, serviços para crianças, funcionários da Title IX e departamentos de recursos humanos: as vítimas evitam se reportar a escritórios de execução que consideram priorizar a reputação de suas instituições sobre indivíduos.   A independência é difícil o suficiente para vender, dado que a SafeSport existia há vários anos como pouco mais do que uma marca registrada do USOC, um site mantido pelo USOC, e um bom slogan para divulgar quando outro escândalo de abuso sexual foi quebrado. Mas a documentação das primeiras reuniões da diretoria da SafeSport mostra que qualquer afirmação de independência é, na melhor das hipóteses, pensamento mágico.
Primeiro, há a questão do conselho diretor da SafeSport. O chefe de operações esportivas do USOC, Rick Adams, não faz parte do conselho, mas sua própria página de biografia do USOC diz que ele "liderou a contratação de um CEO e um conselho independente de nove membros" para a SafeSport. Adams é acusado em uma ação movida contra o USOC e EUA Taekwondo de saber sobre "as numerosas queixas de estupro e agressão sexual feitas por atletas dos EUA contra os irmãos Lopez" e não fazer nada. Mais tarde, ele se desculparia perante o Congresso pelos fracassos do USOC, mas suas impressões digitais no SafeSport permanecem. (Uma declaração do USOC sobre o processo de Taekwondo não abordou especificamente nenhuma das alegações.)

Os primeiros membros da diretoria da SafeSport incluíram Fran Sepler, que, de acordo com a USA Gymnastics, foi contratada para entrevistar a ginasta Maggie Nichols em 2015 sobre Larry Nassar abusando dela sob o disfarce de tratamento médico. Sepler disse à Sports Illustrated que ela não estava lá para fazer uma investigação, apenas para "conduzir entrevistas". Mas a declaração da USA Gymnastics sobre o papel de Sepler foi mais vaga, e o pai de Nichols disse que estava com a impressão de que Sepler estava com a lei. . Sepler deixou o tabuleiro desde então .
Ainda listada no quadro, está Megan Ryther, que passou quatro anos no conselho de diretores da USA Swimming - a mesma organização que ainda sofre com casos de abuso sexual. Há também o produtor de filmes Frank Marshall, que diz em seu próprio site que ele era membro do USOC por mais de uma década. Por seu trabalho com o USOC, ele tem um escudo olímpico e foi introduzido no US Olympic Hall of Fame . Ele também em um ponto foi membro do conselho de Ginástica dos EUA .
Dezenas de páginas de atas de reunião dos dois primeiros anos do conselho da SafeSport pouco fazem para apoiar a reivindicação de independência. Eles, no entanto, alinham-se com a ideia do SafeSport como uma marca do USOC criada para fazer os pais se sentirem melhor e fazerem os repórteres irem embora. Eles mostram uma organização - iniciada pelo USOC, com ordens sobre o que fazer com funcionários do USOC e funcionários em cargos importantes com ex-funcionários do USOC - que falaram mais sobre branding, posicionamento no mercado e como lidar com uma crise de mídia do que abuso infantil ou proteger os atletas. Como esta reunião em 18 de março de 2016 :

A primeira reunião foi realizada em 28 de janeiro de 2016, em Colorado Springs, Colorado, onde está localizado o USOC. Juntamente com o conselho de administração, seis outras pessoas compareceram, de acordo com a ata da reunião. Quase todos eles trabalharam para o USOC:

Malia Arrington, diretora sênior de ética e SafeSport do USOC

Meredith Yeoman, coordenadora do USOC, divulgação e comunicação da comunidade, ética e SafeSport
Gary L. Johansen, conselheiro geral associado do USOC, legal e secretário da SafeSport.
Stephen Brewer, controlador do USOC, finanças e tesoureiro do SafeSport
Chad Sunderland, diretor de Inteligência de Negócios do USOC, planejamento estratégico
David P. Kunstle, advogado externo da SafeSport do escritório de advocacia Lewis Roca Rothgerber Christie
Arrington, a autoridade do USOC que disse que o abuso sexual tinha que ser tratado no nível esportivo, era a pessoa que guiava a diretoria da SafeSport ao criar o centro SafeSport para investigar o abuso infantil. Johansen, o homem que disse que o USOC não tem atletas e apelidou o abuso sexual de uma "questão SafeSport", também estava lá.
Uma e outra vez, nos minutos das reuniões iniciais, é impossível ignorar a influência que Arrington teve sobre a própria fundação do centro SafeSport. Naquela primeira reunião, por minuto, ela agradece por "colocar a organização em funcionamento". Arrington faz uma apresentação ao conselho sobre a SafeSport. Ela fala sobre o estatuto da NGB e do USOC. Há uma discussão sobre as possíveis políticas do centro, de acordo com as atas, "sob a liderança de Malia Arrington".
Quando a reunião foi retomada, no dia seguinte, o mesmo pessoal do USOC estava lá, e mais:
Rick Adams, chefe do esporte paraolímpico do USOC e desenvolvimento organizacional da NGB.

Scott Blackmun, então CEO do USOC
Blanton Jones, vice-presidente do USOC, presentes anuais e importantes, departamento de desenvolvimento
Martha Johnson, diretor associado do USOC, desenvolvimento de captação de recursos da NGB, divisão de desenvolvimento
Pam Sawyer, diretora executiva do departamento de recursos humanos do USOC
Fora o advogado de lado, havia apenas uma pessoa sem um título do USOC, o atleta paraolímpico Rudy Garcia-Tolson. E o primeiro item observado na ata foi que Blackmun disse ao conselho que a SafeSport receberia alguns milhões do USOC, mas, do contrário, "precisaria de um esforço dedicado e concentrado para levantar fundos para executar sua missão".
O próximo orador seguinte foi Arrington.
Por um segundo dia consecutivo, o nome dela inicia muitas das linhas de ação descritas nas atas da reunião. Ela apresenta os fatores para o sucesso da SafeSport. Ela conduz uma discussão sobre possíveis serviços que a SafeSport pode oferecer. Ela diz ao conselho que, na verdade, o USOC é dono da marca registrada - na verdade, na época, por registros federais -, mas vai transferi-la para essa nova organização. A moção para que Arrington assine tal contrato de licença passa por unanimidade.

De lá, mais pessoas do USOC falam. Adams, Jones e Johnson falam sobre como levantar dinheiro com base em sua experiência no USOC e NGB. Sawyer fala sobre como procurar um CEO. Arrington fala sobre a luta para obter seguro para o centro. O conselho concorda em continuar com Arrington e Yeoman como diretor executivo emprestado (do USOC) e coordenador comunitário de extensão / comunicação emprestado (do USOC), com seus salários pagos pelo USOC até julho. E o conselho concorda que o centro - o centro independente para os investigadores independentes que não serão influenciados pelo USOC - deveria estar no Colorado, perto do USOC. Fala-se em branding, já que Arrington está preocupado que a SafeSport possa ser interpretada como tendo a ver com concussões ou segurança de equipamentos. Perto do final, o conselho decide dividir-se em três grupos de trabalho: comunicação e marketing, busca de executivos e captação de recursos.

E no segundo dia, eles já estavam falando sobre branding.

A partir daí, as impressões digitais do USOC em todo o SafeSport crescem apenas mais pesadas.
A próxima reunião, em 18 de março de 2016 , lista quase exclusivamente pessoas do USOC presentes, fora do conselho, exceto uma pessoa - o CEO da USA Gymnastics, Steve Penny, que é descrito como falando sobre os "desafios apresentados à Gymnastics USA no fornecimento de um ambiente esportivo seguro. "

Arrington domina a conversa. Ela fala sobre a importância de "estabelecer uma reputação sólida e conquistar a confiança dos stakeholders". Arrington diz a eles que um vice-presidente do USOC concordou em ajudar em seus esforços de captação de recursos e outra pessoa do USOC pode estar disposta a servir como ligação à SafeSport. Fala-se sobre "rascunho de missão", "estratégia de mercado" e "declarações de missão". O SafeSport, várias vezes, é descrito nas atas da reunião como uma "empresa" e Arrington e o Chad Sunderland do USOC são descritos como conversando sobre "organizações que poderiam servir como clientes ou parceiros-chave".
A segunda metade da reunião acontece no dia seguinte e começa com esta discussão:

Fala-se em criar uma política de doadores corporativos, limitando um patrocinador corporativo a no máximo 15% do orçamento operacional do centro. Nenhum limite é colocado no USOC. E neste, apenas a segunda reunião do conselho, os programas da SafeSport já são vistos como oportunidades de financiamento:


As atas da reunião não refletem nenhuma conversa prolongada sobre como melhor prevenir o abuso sexual.
Os últimos sete itens discutidos começam com pontos de discussão de Arrington. Eles falam sobre estatutos, comitês permanentes, conselhos consultivos, possíveis contratações importantes, filosofia de remuneração, abertura de uma linha direta de 24 horas, um sistema de gerenciamento de casos e até onde colocar os escritórios da SafeSport.
Sua próxima reunião significativa está espalhada por dois dias no final de junho de 2016 . Novamente, fora dos próprios membros do conselho, apenas pessoas do USOC estavam presentes. Eles concordam em ter sua busca de executivos feita pela Korn Ferry, uma empresa de busca que já trabalhou com o USOC . O comitê executivo de busca diz que obteve informações do USOC sobre "características que podem ser úteis para o pessoal do USCSS". Arrington discute um plano de pessoal e branding, e o representante do USOC, Yeoman, fala sobre marketing. Os membros do conselho falam sobre a importância de contar uma história positiva.

Ainda há mais conversas sobre captação de recursos. Arrington relata que ela conversou com a NCAA, mas não há detalhes sobre como essa conversa aconteceu ou como foi. Steven Brewer do USOC é dispensado de sua posição como tesoureiro da SafeSport, de modo que a posição pode ser preenchida com um membro do conselho.   E mesmo que o centro nem tenha aberto as portas, já tem um plano de crise.

Na reunião, o contrato de serviços compartilhados com o USOC é estendido até o final do ano. Um pouco mais de um mês depois, o Indianapolis Star publica sua primeira história detalhando como a USA Gymnastics ignorou décadas de relatos de abusos cometidos por treinadores. A diretoria se reúne por telefone semanas depois, em 15 de agosto ; não há discussão, por minuto, dessa história. Eles autorizam Arrington a assinar um contrato de aluguel em um escritório da SafeSport, no Colorado.

E quem cita repórteres um dia depois da história da Star , dizendo aos repórteres que a SafeSport virá em socorro? Arrington .
Kate Brannen, porta-voz da SafeSport, da empresa de relações públicas Hill Impact , disse que o USOC queria um membro do grupo de trabalho da equipe do centro, e o conselho escolheu Arrington. "Sua experiência e dedicação para acabar com o abuso no esporte", ela disse, "foi inestimável para nos levar até onde estamos hoje. Arrington enviou sua própria resposta a um e-mail pedindo comentários, dizendo que em seu depoimento no caso dos EUA em Taekwondo, "falei das muitas maneiras que aprendi sobre aspectos importantes da agressão sexual ao longo dos anos (e desde então publiquei nesta área) ; unfortunately, a sliver of what I said was misused, sensationalized, and has since been carelessly repeated as if it is fact. I am not going to engage in a back and forth over personal attacks. To do so would distract from the important work of ending sexual abuse in sport and developing a culture that champions respect."
The meetings continue like this. In September, a month after the Star story's publication, the meeting minutes still show exclusively USOC people in attendance. Arrington is still the person presenting information to the board and guiding NGBs on the possible changes coming up. There is no mention of the Star story in the minutes. But there is the first mention of an "operational readiness plan," with a start date of Jan. 1, 2017, and the board talks about "the need for an approved plan to guide [SafeSport's] public and media relations."

Again, the USOC is offered as a place for advice on fundraising, with board member Dr. Angelo Giordano saying one USOC vice president, Christine Walsh, "would be available to offer advice as to fundraising efforts." There is discussion of making an offer to a candidate for CEO, but the meeting minutes don't give a name.
On Dec. 9, 2016 , the board thanks Arrington for her service as they welcome Shellie Pfohl as their CEO. But Arrington stays on, moving to the COO role. The tax records for SafeSport from 2016 say her "reportable compensation from related organizations" was $210,129 plus another $15,706 in "other compensation."
In the first meeting of 2017, Arrington—the longtime USOC employee who helped build SafeSport and then became a SafeSport employee—brings up concerns about conflicts of interest. She suggests a two-year waiting period before an investigator from an Olympic or Paralympic organization can work for the organization. There is a great deal of talk about fundraising, and Pfohl brings up the idea of relationships with American sports leagues as well as "rebranding" SafeSport training and educational materials.
That March meeting is the first one where the guest list includes people who don't have USOC titles. And while the center still has not opened its doors, there is another discussion about how to handle the media.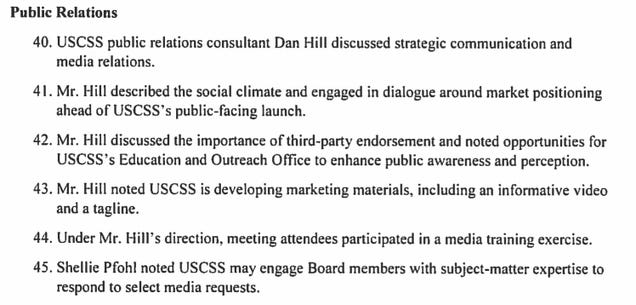 Board members get another media update at the next meeting, in June of 2017:

In late 2017, the USOC people largely fade away from the SafeSport board meeting minutes, and the minutes get shorter. There were no minutes from 2018 published on the SafeSport website. But the foundation had been laid—by people paid by the USOC.
When asked how they reconciled their independence with what the meeting minutes showed, SafeSport public relations provided this statement: "The Center's history is something that we've been very transparent about and it's well established that it was originally chartered by the USOC. Its independence comes from its governance, independent board of directors and bylaws. This is similar to the way the USOC initially established USADA, which today is an independent entity." (Less than one-fifth of USADA's budget comes from the USOC.)
Conflicts of interest have long been a concern for critics of SafeSport. Even before the center opened its doors, Hogshead-Makar, CEO of ChampionWomen , and Marci Hamilton, CEO of Child USA and a professor at the University of Pennsylvania , had sent multiple letters critiquing the proposed SafeSport code that the center would be in charge of enforcing. They went back and forth on several issues , including whether coaches should be allowed to be alone with children, who was covered by the SafeSport code, and how the organization could guarantee its independence. They mentioned this in their third letter :


Hamilton said she doesn't hold out much hope for what SafeSport can accomplish, and has even less hope than when she wrote those letters. She is still concerned by how SafeSport works, especially the lack of transparency in what it finds, because it means nobody but a select few people will ever know how systemic the issue within the Olympic community truly is. Without that type of transparency, Hamilton said, "you can't get the poison out of the system."
"The more I think about it, the more I think this is just not the way we get to where we need to be," she said, "which is maximum transparency and maximum justice."
So what does the SafeSport center actually do? According to its own code , it has exclusive authority to investigate sexual misconduct and other conduct prohibited by the code that "is reasonably related to the underlying allegation of sexual misconduct." That's it. It cannot investigate bullying or hazing or emotional abuse or physical abuse or essentially any form of abuse, outside of sexual abuse. All those other forms of abuse? They are the province of the NGBs—hardly an encouraging thought for anyone considering reporting abuse given the track records of multiple NGBs.  

This structure also ignores how much of the Olympic system happens beyond the official confines of the NGBs, in private clubs, leagues, and teams.

According to its guidelines , the only way the SafeSport center can take on an investigation that isn't connected to sexual misconduct is if it receives a written request from an NGB or USOC. Even then, any action would be at the center's discretion. And there are many more gaps that SafeSport simply can't fill. It has no jurisdiction over NCAA sports. It doesn't have jurisdiction over who owns a private sports club. It can't ban a person from showing up at private events, which already has become an issue with banned volleyball coach Rick Butler . And it can't stop individual parents from waiving concerns aside because they want their kid to win.
Operating perfectly, SafeSport will, by design, at best handle a fraction of abuse cases, while standing at a remove from some of the central elements of Olympic sports. As is, SafeSport is not set up to operate perfectly.
In her deposition, Arrington went over how much of the Olympic movement, by design, is beyond their control (the questions are from attorney John Little):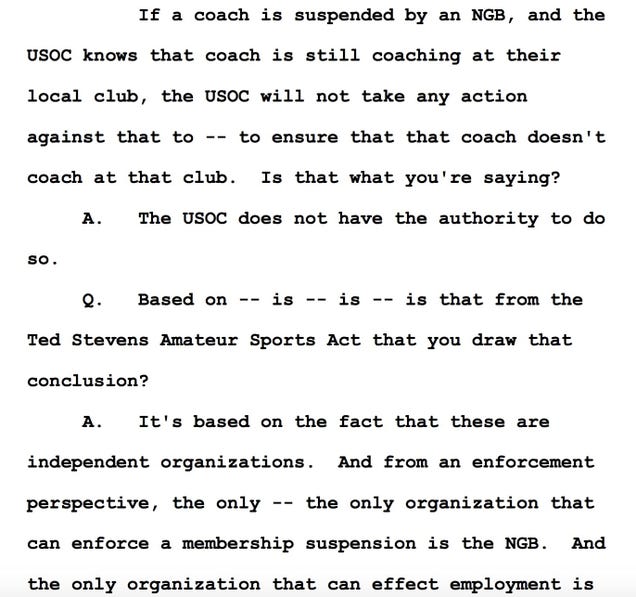 After some objections from a USOC lawyer, Arrington gives another answer on the topic.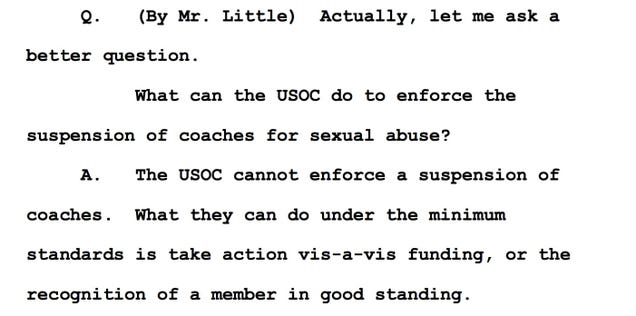 So, from the outset, the SafeSport center is, at best, limited. What is will be excellent at, though, is keeping the details of horrifying sexual abuse at the highest levels of Olympic sport out of the court system—where depositions like Arrington's can happen and become public.

"If they can head off the civil lawsuits," lawyer Stephen Estey told me, "they're never going to make any real, substantial change."
---
When Deadspin emailed SafeSport using the supplied media contact information, the responses came from Dan Hill and Kate Brannen of SafeSport's PR firm, Hill Impact . Hill said that about 19 percent of SafeSport's investigations are done by contract investigators. The names of the investigators would not be provided but their background, he said, was in "law enforcement, legal and investigations. Some come from Title IX." They are not allowed to have worked previously for an NGB or the USOC, he said. In a separate email, Brannen said that the average investigator has 10 to 15 years experience on sexual-assault cases.
But here's what the backgrounds of people who say they work for SafeSport shows: Pfohl doesn't come from a child welfare background. All her previous jobs have to do with encouraging eating healthy and physical fitness among children ; her most recent role was as executive director of the President's Council on Fitness, Sports and Nutrition. Asked why Pfohl was selected despite her lack of experience working with victims of abuse, Brannen responded that she "is a more than capable, hard-working executive with significant experience in the nonprofit sector and the development of sport-related programs for youth.
Then there's SafeSport's former director of legal affairs, whose title was changed to director of investigations and outcomes shortly before Deadspin inquired about his background. Michael Henry says on his LinkedIn profile that he finished law school in 2012 at Texas Tech. He spent a few years doing Title IX work at Texas Tech, then joined a prominent Title IX consulting group , NCHERM, before taking over at SafeSport. Until at least June of this year, records show he was called the group's "legal affairs director," which sure makes him sound like a lawyer. He's referred to with that title, sourced to his LinkedIn page, in an Irv Muchnick blog post earlier this year in which Muchnick referred to him as the "chief lawyer for the agency."
"Legal affairs director"—is also how ZoomInfo catalogued Henry's business information. And in a letter Henry sent, dated June 5 of this year, he signed it as"legal affairs director." The letter was an exhibit filed in Richard Callaghan's lawsuit against SafeSport to stop his interim suspension for sexual misconduct. Here's the top of the letter:

And here's the bottom, with his title:

Henry, though, isn't a practicing lawyer. Deadspin asked SafeSport for the bar number and issuing state for Henry. SafeSport responded that Henry never took the bar and was never the general counsel, and that his title was "director of investigations and outcomes."
In response to follow-up questions about why his title had changed, SafeSport responded that the center knew that he wasn't a lawyer when he was hired and the title change was due to a recent reorganization in which the center hired a "chief of response and resolution," to whom Henry reports. That new employee, W. Scott Lewis, was announced via press release on July 5. Lewis also came from prominent Title IX consultants NCHERM .
Deadspin also found one woman who publicly identifies as a SafeSport investigator on LinkedIn and, as with Henry, has experience only at the collegiate level. She says that she did Title IX work at the University of Hawaii for about three years and, before that, worked at the University of Phoenix. One of SafeSport's contract investigators also was named through her emails to the lawyer for Callaghan. The investigator in that case is another Title IX lawyer, Kathryn "Kai" McGintee , with Maine law firm Bernstein Shur's Labor and Employment Practice Group and Education Practice Group. McGintee has been quoted as a Title IX expert in the past, and her name is mostly comes up with her sexual-assault investigations at Phillips Exeter Academy, which parents sued over how the elite prep school handled reports of sexual assault.
---
Hill, responding on behalf of SafeSport said he couldn't set up an interview with Pfohl within Deadspin's timeframe, but did offer to set up an interview with Katie Hanna, director of education and outreach for SafeSport. With a member of the group's PR team on the call, Hanna talked about her plans for the educational component of SafeSport. The current staff is extremely small, just a few people, and their budget is $1.5 million.

Overall, Hanna—who has a background in working to end sexual violence —sounded extremely positive. She talked about creating "a learning community" where peers and coaches teach each other best practices and reaching out to coaches who wanted to be part of the change. She said, "There are so many coaches who are working to end abuse in sports." And several NGBs, she said, had indicated they wanted to go above and beyond what SafeSport required. So far, they had consulted with Coaching Boys Into Men and Athletes As Leaders for guidance on building positive environments.
"So much about what works in prevention is having ongoing assistance and training to make sure it's effective," she said.
Asked what she could do about about NGBs, like USA Swimming, that have been called out for having poor or even dangerous SafeSport materials, Hanna said, "We will provide best practices to NGBs." The SafeSport center does have the authority to do random audits of NGBs to see if they are in compliance with the SafeSport code, and can issue consequences if they are not, but those consequences hadn't been finalized when we spoke.
Asked about the the sheer size and demand of what they were being asked to do—end sex abuse in sports—and with so few resources, Hanna answered with the positivity common to people who provide perpetually underfunded services for women and children. "We're up for the task," she said.
SafeSport's recent hires surely want to do good work. But can they make a difference? Pfohl's testimony before Congress last month showed how overworked they are. Between the time the center opened in March 2017   and April of this year, the group received more than 800 complaints, covering 38 out of the close to 50 NGBs. As of June, SafeSport had 14 employees: five full-time investigators, nine staff that work in other areas, and seven "external, contracted investigators. (Pfohl insisted these investigators were qualified, although she would not go into many detail about what made them so.)   The entire budget, she said, is "a little more than $4.6 million." When asked if this is enough money and people to investigate every complaint thoroughly, Pfohl quickly replied, "No." (Since that interview, SafeSport has hired a chief of response and resolution, and have posted five job openings .)
The lack of funding isn't new, even if members of Congress act surprised in front of the cameras. From the Colorado Springs Gazette in April 2017 :
In a March interview, USOC CEO Scott Blackmun said the delay in opening SafeSport was primarily financial. The USOC will provide $10 million to fund SafeSport's first five years of operation.

Raising those funds was challenging.
"We thought we would be able to raise financial support for this program faster than we were able to," Blackmun said.

Pfohl brings up the delay question without being asked.

"Gosh," she said, "we all wish it would have happened faster."
Those limited dollars explain why Pfohl had to give answers like this, when asked about how SafeSport will be able to audit how it is doing. "I would say," Pfohl said, before taking a long pause, "our resources are limited in that area in terms of self-audits, if you will. But our goal, and I know it is a high priority for our board, we will find the resources to be able to do it."
Since then, SafeSport says it has received more than 1,000 complaints. Brannen said the center had issued almost 300 sanctions and made more than 149 individuals permanently ineligible.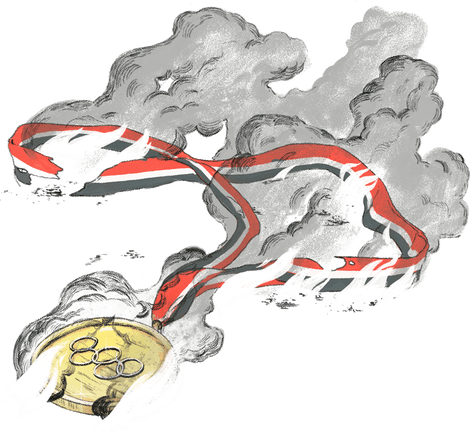 The money SafeSport does have comes largely from organizations it is tasked with policing or that have relationships with the Olympic movement. The center itself didn't have its own tax returns, known as 990s, until 2016, when it reported having less than $1 million in net assets and $1.5 million in revenue. Most of that—$1.07 million—came from "related organizations," meaning the USOC, which said on its own tax return that it gave SafeSport $1.07 million that year for "furthering Olympic and Paralympic support." SafeSport also gets money from the NGBs, although those figures are much smaller. USA Swimming president and CEO Tim Hinchey, for instance, told Congress that his organization, which is one of the larger NGBs, gave about $43,000 a year.
Public records don't yet detail how much the USOC has given SafeSport more recently. SafeSport's website , though, lists their sponsors: two Olympic organizations; the NBA and WNBA, which work with the Olympics; ESPN, which has Olympic ties too;   and NBC, the network that broadcasts the Olympics. It's difficult to understand how SafeSport can be considered independent—no matter how many times Pfohl and told Congress, "I don't answer to anyone at the USOC"—when so many organizations that benefit from the Olympics are cutting the checks.

It didn't have to be this way. One version of the United States Center for Safe Sport Authorization Act, filed by Sen. Bill Nelson and Sen. John Thune in 2017 , included a provision to give SafeSport $1 million each year. That's not nearly enough to cover everything, but such a setup would at least represent a start. The final version of the bill, which passed earlier this year , contained no language about how to fund SafeSport, forcing the organization that's supposed to make millions of children across America safer to go out and find its own cash. So while members of Congress go through hearing after hearing worrying about SafeSports' conflict of interest, they leave how they themselves contributed to it.

Deadspin asked spokesmen for Nelson, Thune, and Sen. Dianne Feinstein why appropriations were left out of the bill; a member of the Commerce committee staff responded to the inquiries by saying the funding language ended up getting replaced with a "DOJ competitive grant included/funded in the omnibus."

That grant, according to the bill that passed , is for $2.5 million, while the 34-page solicitation puts it at about $2.2 million . The SafeSport Center, in theory, is a lock for the funds because the program is earmarked for "an eligible nonprofit nongovernmental entity in order to support oversight of the United States Olympic Committee, each national governing body, and each paralympic sports organization with regard to safeguarding amateur athletes against abuse, including emotional, physical, and sexual abuse in sports." But they still have to apply. And wait.
What about in the coming years, especially after 2022, the last year mentioned in the funding bill?   Will there be more grants? That is up to Congress, the organization that created the USOC and its entire system of buck-passing.

Given the distinction between the SafeSport center and SafeSport as a program, most of what SafeSport is and does will, ultimately, take place at the sport level. And as anyone who's read coverage of NGBs like USA Gymnastics , USA Swimming , USA Taekwondo ou USA Diving over the last year and a half knows, this is an issue. These are the very bodies that have failed to act on, or acted to cover up, reports of abuse.

"Right now, all the power resides with what some people refer to as the suits—the administrators and the Karolyis—and none of the power resides with the athletes," Hogshead-Makar said. "It's a zero-sum game. So how do you move it from them to the athlete?"
It's hard to know where to begin with the list of problems that make that movement so difficult: the lack of oversight of coaches; the incomplete lists of banned coaches; and the lack of significant change at many NGBs, where a leader can easily survive a sexual-abuse scandal, are among the most serious. Perhaps unsurprisingly, even the very people hired to execute SafeSport at the NGB level can raise red flags.

"I have a huge problem with how most NGBs hire people to work in SafeSport, and that is they don't hire people from outside sports. They hire marketing people," Hogshead-Makar said.
A visit to several NGB's SafeSport websites shows most are bland collections of graphics, brochures, and hotline numbers. One of the more robust online programs belongs to the sport that started SafeSport and one of the largest NGBs: USA Swimming, where it's already been called a farce and a sham . Swimming promoted Susan Woessner to oversee SafeSport, even though her prior job had been in business operations; she resigned after the Orange County Registerrelatado that she had kissed a coach accused of sexual abuse. ThinkProgress dove through USA Swimming's SafeSport materials and found plenty of troubling messages, like one exercise that said, "It's coaches' jobs to care about you!"
And the downright glibness of the SafeSport Activity Book , a coloring book that USA Swimming puts out quarterly, shows SafeSport at its conceptual worst, functioning as literal public relations. (According to the website, the coloring book is meant to start conversations about "all the reasons to love the sport of swimming.") Let's go through the most recent issue .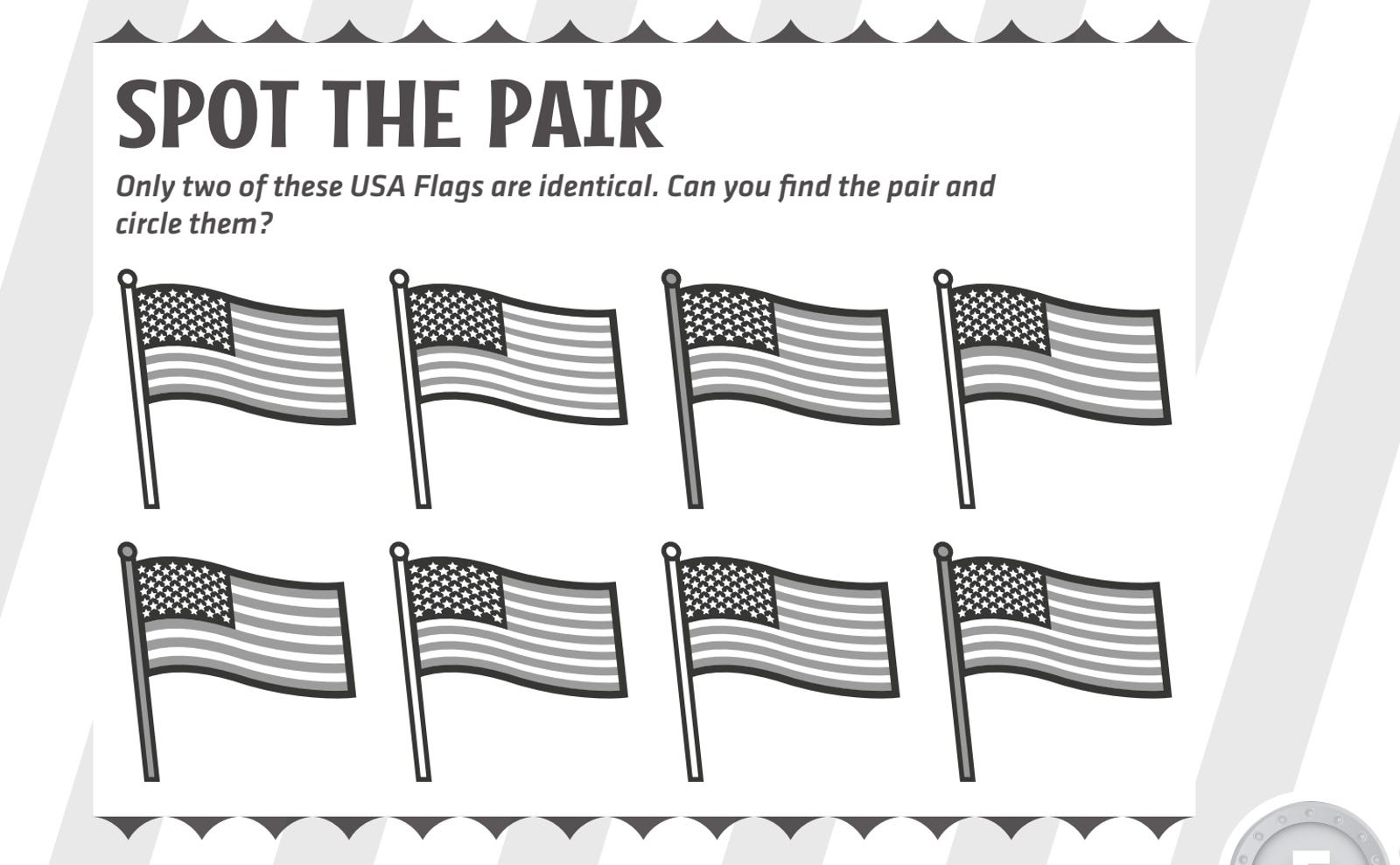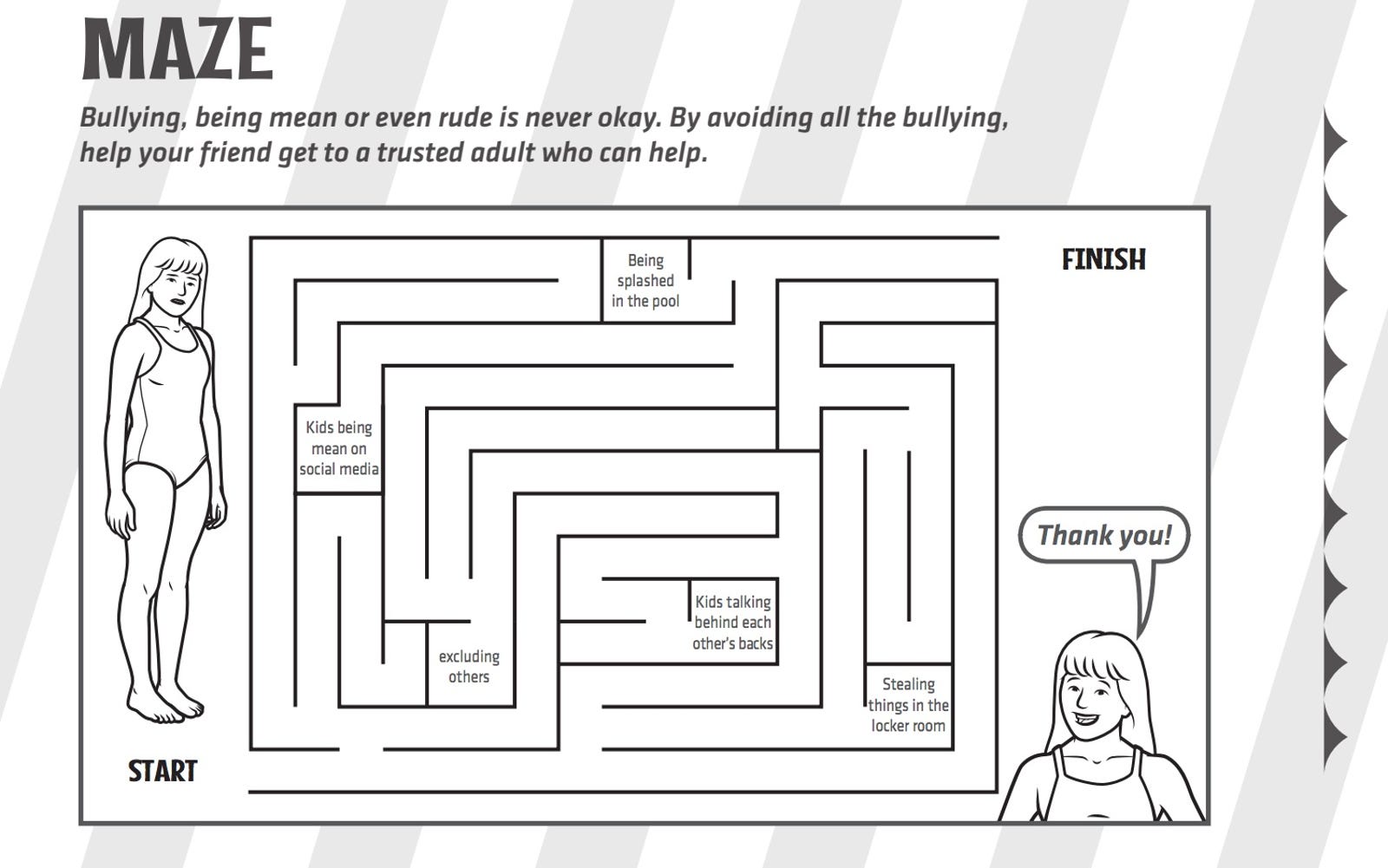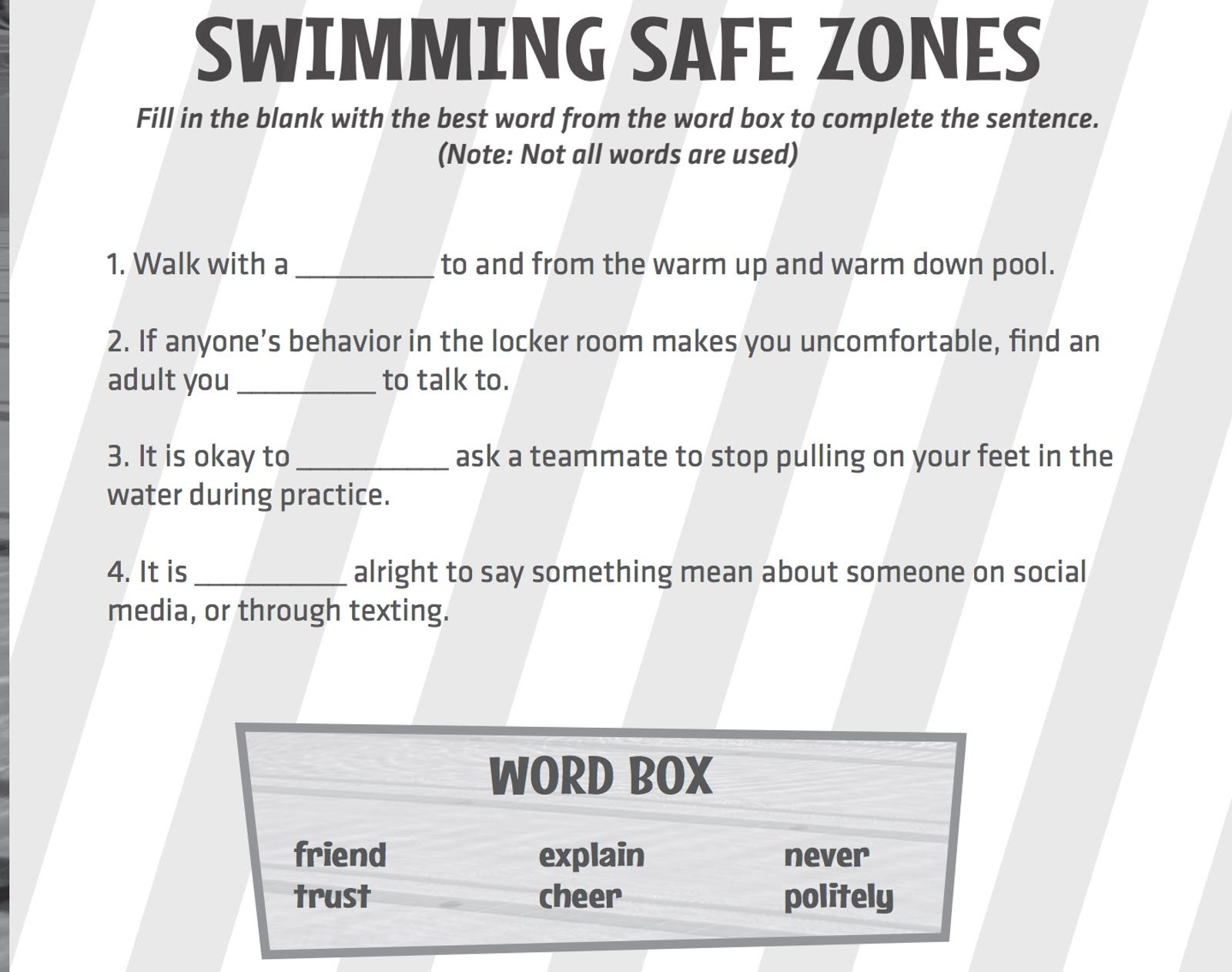 The coloring book adventure concludes with our guides sending us off, saying we are ready to be SafeSport champions.
Bostick, the former swimmer who came forward about her abuse, has expressed her concerns to USA Swimming about these materials as well their program overall. When people see the logo for USA Swimming, Bostick says, they "think this is someone who will help me be healthy, someone I can trust. This isn't someone in a broken-down van with a puppy offering you candy. It inspires trust."   (USA Swimming did not respond to requests for comment.)
Add to that the power of a catchy brand, like SafeSport: "When you see SafeSport, you are going to assume it's the best material out there in terms of athlete safety and prevention," Bostick said. "Instead, it's terrible. It's a marketing arm of USA Swimming, but with people's lives on the line."
Or look at USA Gymnastics, another one of the largest NGBs. Its president, Kathy Perry, recently spoke at a regional gymnastics meeting, and the full audio was aired by the podcast GymCastic . Perry talks about exercises to describe what words best describe their core values. She says "empowerment" a lot, plus "safety" and "culture" and "SafeSport." Perry hits every buzzword that's expected. It all sounds good, but it's difficult to point to anything concrete substance beyond the expected marketing speak .
---
"We're not here today to tear down the sporting world," said US Rep. Diana L. DeGette, whose district includes the SafeSport center, during one of the many recent rounds of Congressional testimony.
That is part of the problem. Ending child abuse both within and beyond sports is about tearing things down, and about remaking the world. Hamilton, who has studied child abuse across multiple institutions, wrote last year on what she has learned from seeing the same crimes committed over and over again in different institutions, different states, and different walks of life but always with the same horrifying details "because child sex abuse is as old as humankind and just as entrenched."
This tectonic shift cannot happen when discrete organizations are left to their own devices, no matter how good their intentions, because unaccountable organizations (and that is what an organization governing itself is) will devolve into scenarios of self-protection and adult preferentialism. The law has set up organizations to these ends, actually: The boards of directors have fiduciary obligations to the organization, the leadership is awarded for its success for the organization, and the fans of the organizations have an insatiable appetite for its public achievements. When you add to that the ingrained tendency of adults to put adult interests like reputation and career ahead of children, the result is that children continue to be institutionally incapable of overcoming these biases against protection.

Instead, America has been given SafeSport.

It is, in some ways, a distinctly American creation—born from the rib of a marketing agency, given a gargantuan task, forced to figure things out on the fly with little oversight, and to pay for itself. It's not surprising that SafeSport is underfunded and overworked, that it may employ people who are under-qualified, or that it has been heavily influenced by people who appear to care more about trademarks and preventing lawsuits than protecting children. You could apply the same observations to plenty of child welfare agencies across Americ uma. What's surprising is that anyone thinks SafeSport will somehow turn out different than every other attempt to help children.
SafeSport, as currently constructed, will not accomplish its lofty goal, but it will make for great marketing. Give the lawyers a good phrase to say—something cleaner than "sexual assault" or "rape" or "abuse"—and trot out all the usual people to insist that there's nothing to see here, that their handpicked people will take care of it just like they always have, and you can get away with a lot. Given the USOC's own history, there's no reason to think this was ever about anything else.